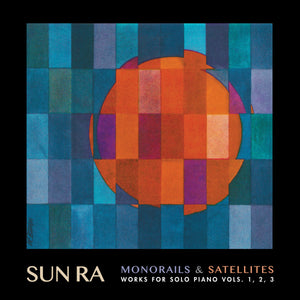 Limited restock; Triple-LP version. Tri-gatefold cover. "Considering the monumental depth of Sun Ra's recorded oeuvre, there are surprisingly few solo piano albums.
Monorails & Satellites Volumes 1
and
2
were the first commercial LPs of the artist's solo keyboard excursions. Recorded in 1966 and released on his Saturn imprint in 1968,
Volume 1
featured seven idiosyncratic originals and one standard ('Easy Street') delivered in Sunny's singular manner.
Volume 2
was released the following year, and contains five compositions, all originals. A third volume was prepped but shelved, and this deluxe edition marks its premiere release. As with all Cosmic Myth releases these volumes are superbly mastered, and are available with copious liners notes by renown American jazz pianist Vijay Iyer, and additional overviews by jazz historian Ben Young and producer Irwin Chusid."